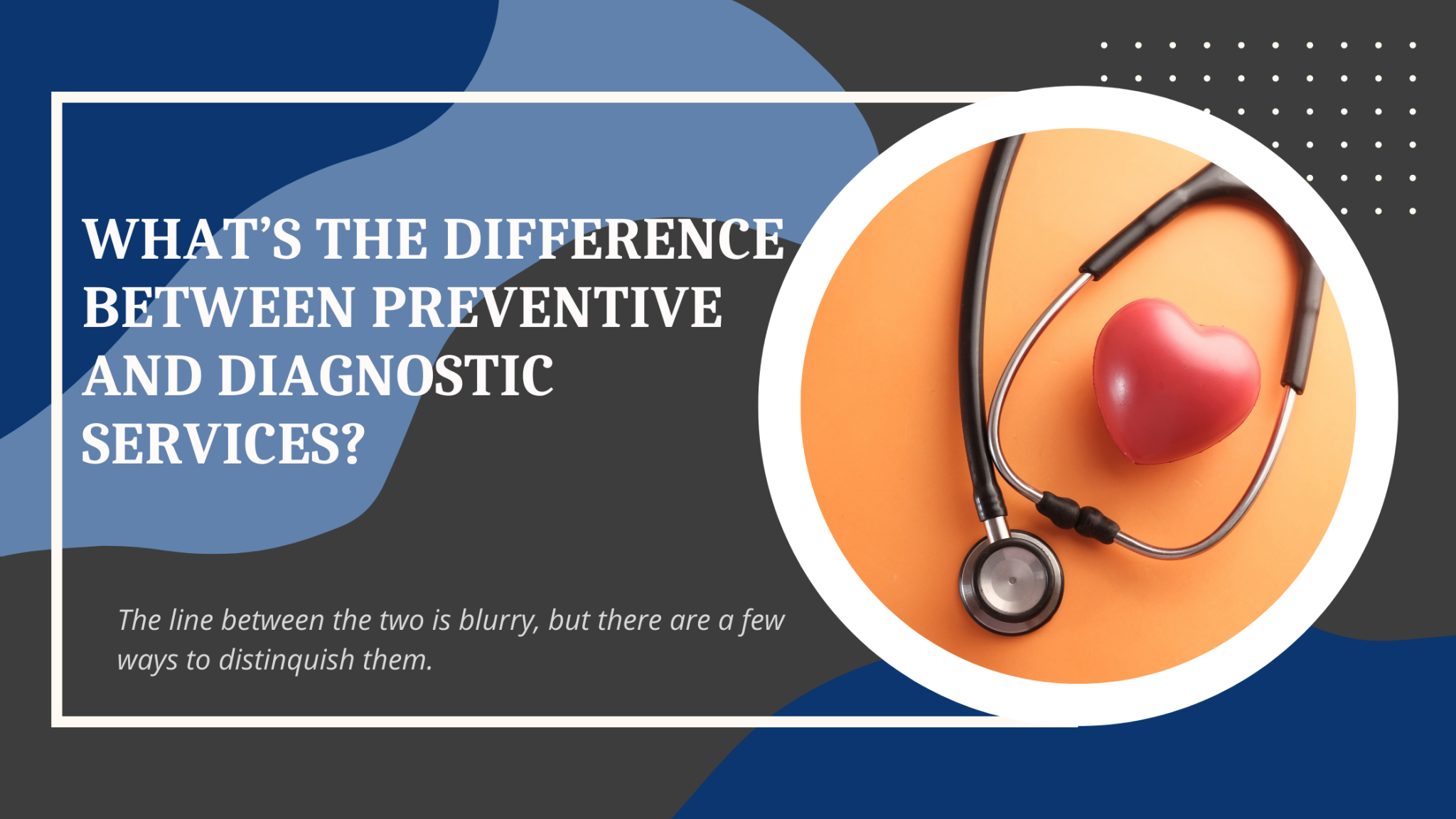 'Preventive' and 'diagnostic' care are two common types of care you have likely encountered before during routine visits with your healthcare providers. On the surface, both appear to cover the same kind of medical services related to the treatment of conditions before they take root. Upon closer inspection, however, there are key differences that set them apart.
Understanding the difference matters.
It's vital for all patients to understand the scope of treatment they receive, especially when it comes to avoiding lasting healthcare issues down the line. Both preventive and diagnostic care provide doctors with ways of monitoring the condition of one's health, notifying them as soon as possible of the slightest change in status.
What is preventive care?
Preventive care focuses on disease prevention and keeping you as healthy as possible for as long as possible. Treatment comes in the form of evaluating current health status through annual checkups, certain wellness exams, and routine labs. In short, the goal of preventive care is to maintain current health and prevent disease, illness, or conditions from becoming a risk to one's health.  In most cases, preventive care is 100% covered with no deductible or copay. Common preventive services and visits include:
Annual routine wellness exam

Review of medical history

Evaluating risk for medical conditions

Consulting provider on how to lower health risks

Certain screenings: Immunizations, lab tests, routine PAP*
Sometimes preventive care goes by other names, such as well-care visit, annual physical exam, or annual wellness checkup. It's important to note that some preventive appointments may include diagnostic services or additional services that are not preventive in nature, which may carry a charge.
What is diagnostic care?
Diagnostic care focuses on investigating and, if necessary, treating a health issue. In this way, diagnostic care works alongside preventive care, which it relies on as a first defense against emerging health concerns. But that's where the collaboration ends. Where preventive care is often a general overview of current health status, diagnostic care digs into specific aspects of health, often searching for the cause of changes in health and seeking to reverse it. This means it involves treating or managing the specific symptoms, risk factors, and root causes of health issues. Common types of diagnostic care include:
Tests, labs, x-ray for specific conditions/illnesses

Treatment for symptoms of an already established condition

Medical procedures to confirm or determine scope of health issue

Medication and lifestyle maintenance

Diagnosis or treatment for health conditions
In some cases, diagnostic care might be provided during a routine preventive visit. This can be due to several factors, including the physician noticing potential health concerns or you are bringing up a health concern that may need closer examination. It's important to note this because doing so may result in a preventive care visit not being 100% covered.
Knowing if care is preventive or diagnostic.
It's difficult for most to determine where the line is drawn between diagnostic and preventive care. Bloodwork, for example, can be preventive or diagnostic. But in most cases, there is a simple way to gauge where a service might fall: the reason behind needing the service in the first place.
If a service is performed as largely routine and part of an annual visit, it is likely preventive. If a service is done in response to the symptoms of an emerging health concern or to monitor an existing condition, it is more than likely diagnostic. The best way to know? Ask your doctor if the treatment they recommended will come with added charges or speak directly with your health insurance provider.
Sign on to your dashboard at Enrollment First to review your plan information. You can also call Member Services at (866) 816-6786 if you have questions about coverage, such as specific preventive and diagnostic benefits.
The above content is purely informational and is not comprehensive. Coverage of preventive and diagnostic services will vary based on your health insurance plan and carrier.
Sources cited:
What's the Difference Between Preventive Care vs. Diagnostic Care? | Kaiser Permanente Washington
Preventive vs. Diagnostic HealthCare: Know The Difference (labtestingapi.com)
Preventive Care: What's Free and What's Not (verywellhealth.com)