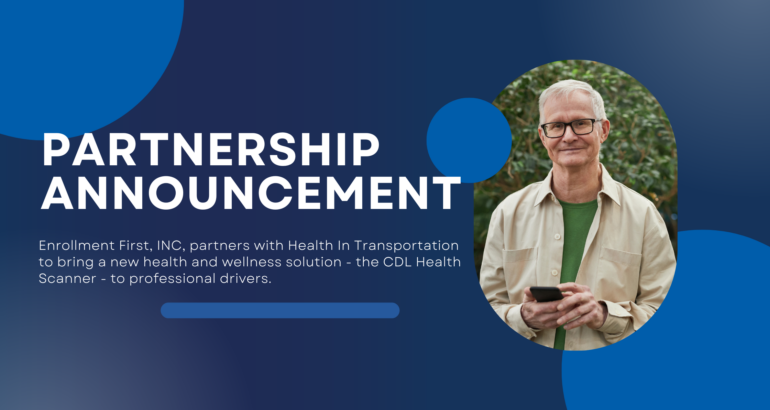 Knoxville, TN (March 28, 2023) — Today we're highlighting the new partnership between Enrollment First, Inc. and Health in Transportation (HIT), a health and wellness solution provider dedicated to the wellbeing of professional drivers.
HIT aims to address growing health concerns for drivers in the Transportation Industry, which struggles to meet American freight demands amid massive shortages. As the lifeblood of the U.S. Economy, professional drivers move 72% of all goods; they are the backbone of the supply chain infrastructure, with 80% of Americans relying on them for access to basic everyday necessities, such as food, water, and medicine. Shortages make it difficult to meet this supply and demand. However, the rise in poor health among drivers comes with its own cascade of consequences for their employers, their families, and, sometimes, at the cost of their own lives.
HIT offers a solution to this growing crisis: the CDL Health Scanner. It's a revolutionary yet practical web-based smartphone app that accurately measures key vitals, such as blood pressure, respiration, heart rate, and body mass index (BMI). Using this information, it delivers easy-to-digest risk assessments and educational resources for common health concerns that can threaten driver qualification: obesity, diabetes, hypertension, and sleep apnea.
As we've written before, preventive care has never been more essential to the wellbeing and productivity of employees. This is true across all industries, but it is especially the case in Transportation. HIT's CDL Health Scanner is shifting gears to help drivers get under the hood and see how their personal engines are running. It will also make them aware of any check engine warning signs that might pose a risk of licensure disqualification if not addressed.
As Enrollment First, Inc. and NAWP move towards pragmatic, holistic, and innovative health solutions, it is proud to be part this journey and offer a new supportive preventive tool to their drivers.
For more information about this new partnership and/or the CDL Health Scanner, contact Enrollment First at (865) 684-1030 Monday – Friday, 8:00am – 5:00pm EST.